Weather News – Chilly Sunday in South Australia
Chilly Sunday in South Australia


Graeme Brittain,

Saturday October 17, 2020 – 14:53 EDT

A high pressure system will circulate a cool airmass across South Australia on Sunday.
Looking offshore, latest observations indicate that sea surface temperatures are below average over the Great Australian Bight, which will further limit daytime heating for coastal adjacent areas of the state given that winds will be blowing onshore.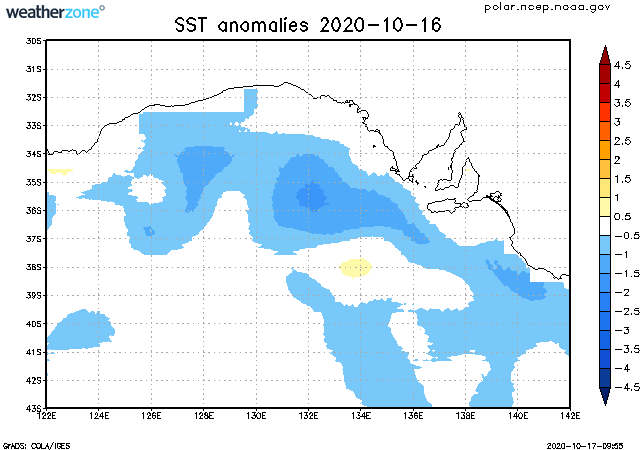 Image: Observed sea…
Want for nothing in this custom regional stunner
---
If it's a grand entertainer you're looking for, and more than a little room to move, this Jupiter Creek home could be just the place you've been seeking.
Built in 2005 by vendor Sue, the resort-style home ticks a number of boxes as both a luxury abode and a working equestrian property.
---
"It was a paddock when I bought it – I knew the owners and for many years I had ridden past that block from my previous property and just loved it, and found out it would be coming onto the market so I leapt on it," she says.
---
"I didn't have any real…
PSA – Residents in Coober Pedy please be advised there is a Telstra outage in th…
PSA – Residents in Coober Pedy please be advised there is a Telstra outage in the area. If you require an ambulance and cannot call Triple Zero (000) you will need to attend the Coober Pedy police station.
Two serious assaults in Adelaide's south as more assaults reported statewide in new statistics
A man is in a critical condition and another is also in hospital after separate assaults in Adelaide's south last night.
Key points:
A man has been critically injured after an alleged assault at Park Holme
Serious assault statistics are up but assaults in general are stable
A man has died after running across roofs
A 33-year-old Hackham man suffered serious head injuries and lacerations to his arms at about 6:30pm.
Police have since visited a Park Holme address where the assault allegedly happened.
They were alerted to the crime after the man was admitted to the Flinders Medical Centre.
Half an hour earlier, a 25-year-old Seaford Rise man received non-life-threatening head and leg injuries after an incident at Clearwater Crescent.
Detectives…